Despite the temperature roller coaster this spring, Cilantro is already setting flowers and going to seed.  I know many people can't stand the taste or smell of Cilantro, but my daily diet would be sadly lacking without it!  I start my days with it chopped in with my scrambled eggs, along with Jalapeños, Moringa leaves and onions (sometimes mushrooms and mint, too!)  All this on a tortilla, topped with lashings of hot chunky salsa!!!
Cilantro/coriander (Coriandrum sativum) has been cultivated as a medicinal and culinary herb for more than three thousand years.  References to this wonderful herb abound in Sanskrit texts, Egyptian papyri, a translation of The Arabian Nights and the Bible!  It was introduced to Central and South America where it quickly became associated with that cuisine by the Spanish Conquistadors.  Easy to grow, readily self-seeding, the only drawback is that it fails to cooperate in hot weather!
Enter Papalo (Porophyllum ruderale).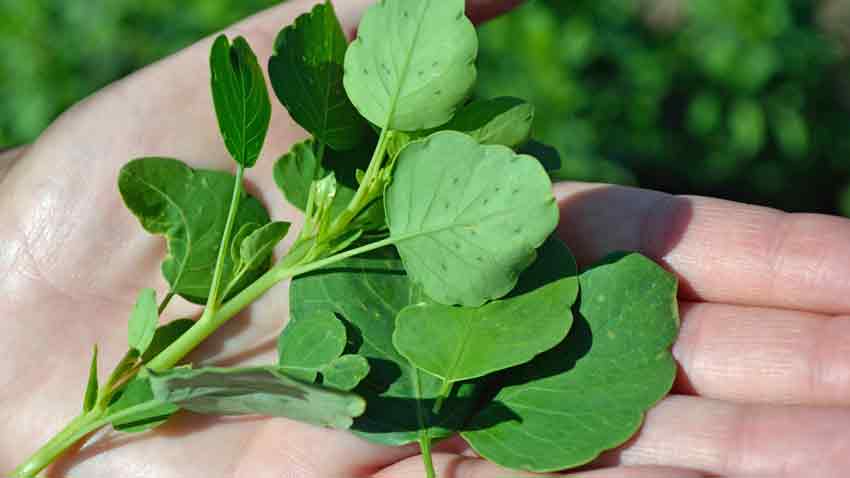 Papalo is known by many names; Quilquiña, Yerba Porosa, Killi, Papaloquelite and broadleaf in English. It is a member of the informal quelites), the semi-wild greens rich in vitamins and nutrients that grow among the fields in central and South America. These green edible plants grow without having to plant them. They sprout with the first rains or field irrigation, often providing a second or third harvest, costing no additional work but giving food and nutrition.   Other quelites include lamb's quarters, amaranth, quinoa, purslane, epazote and Mache or corn salad.
Papalo pre-dates the introduction of cilantro to Mexico by several thousand years, which is a very interesting story all by itself. South America is thought to be the ancestral home of papalo.  The name Papalo originates with the Nahuatl word for butterfly, and Papaloquelite is said to mean butterfly leaf. The flowers provide nectar to feeding butterflies, while also attracting bees and other pollinators to the garden with their pollen.
Use this "summer cilantro" just as you would the real thing.  Although it is not related to Cilantro, it is a good fresh-picked substitute.